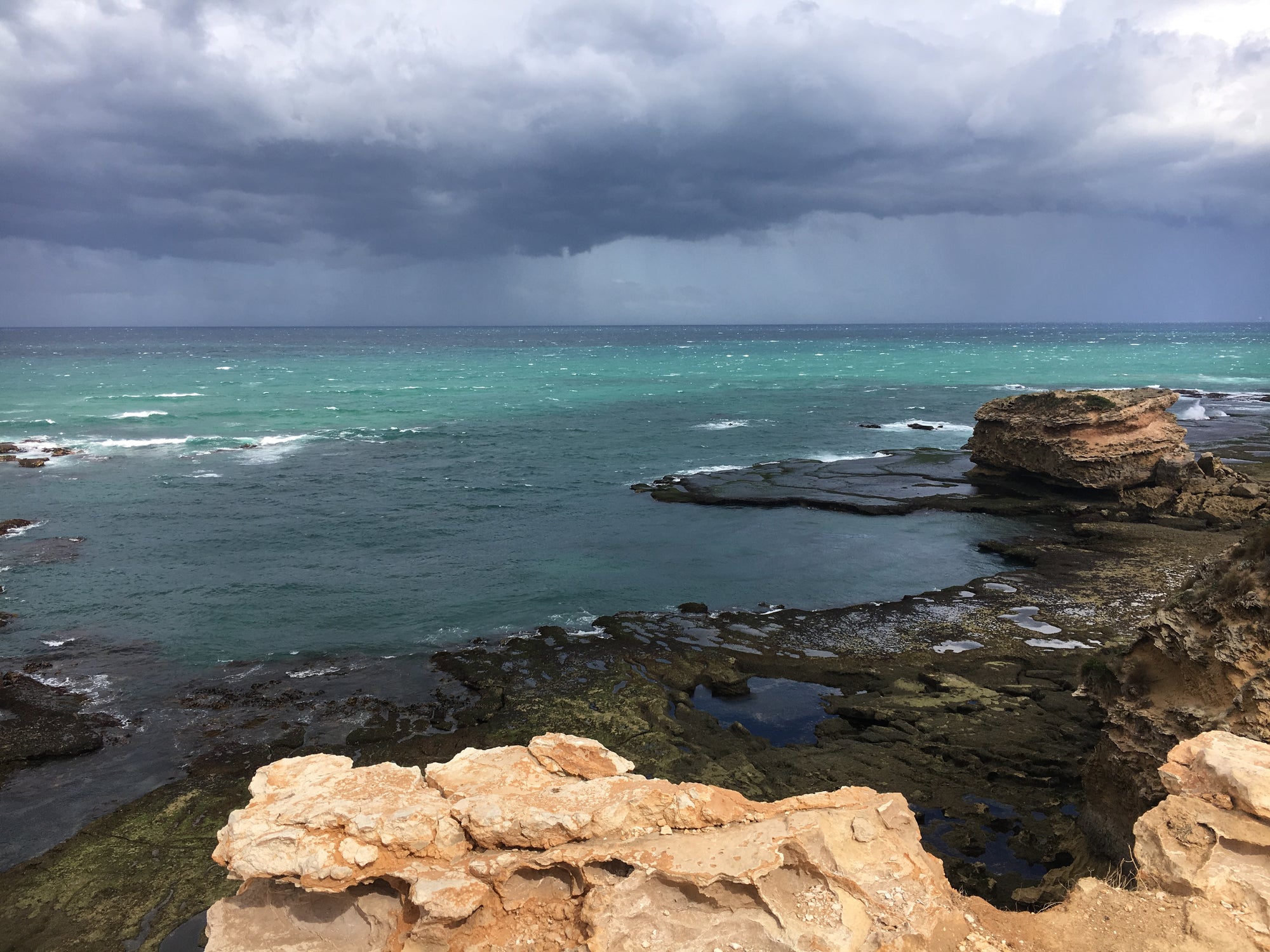 How do your turn a wild storm into a forever ring? 🌊⚡⛅
STORMY SEA AND THE COLOUR-CHANGE SAPPHIRE -  A ROMANTIC TALE!
Read our Q + A with Davina from Black Finch and Genevieve and David on the inspiration and process of making this ring....
DAVINA

: Thanks for sharing your story with our community....where was the original image taken?
GENEVIEVE and DAVID

: 'The photo was taken at the Sorrento back beach (I think it's called St Pauls Beach) the same day that we got engaged - there was a storm coming in but we lingered to watch all the beautiful colours as the sun was still out while the storm was coming in - it was pretty wild and breathtaking!'
DAVINA: 'So romantic! What were your hopes for the piece?
GENEVIEVE and DAVID: 'Our hopes for the piece have definitely been exceeded! We are both lovers of the ocean and all its many moods and colours, especially those of a stormy sea - so many beautiful teals and greys and greens. Initially, we had thought to look for individual stones that captured those colours and make a cluster out of them, but then Raymond pulled out the incredible colour change sapphire and it has all of those colours in one stone. Just like the ocean, sometimes it's light and breezy and sometimes it's dark and stormy, depending on the light and the colours around it. It's pretty remarkable!
DAVINA:

 Fantastic, so after hopes come the....drumroll.....results?
GENEVIEVE and DAVID

: 'Everyone should go for a colour change sapphire! It never looks the same, and we are still getting to know all it's colours, from teal greens, navy blues, even olive greens and sometimes even a colourless grey. Paired with Genevieve's grandmother's diamond on one side, and a cluster of salt and pepper diamonds and another tiny matching sapphire, it's just perfect - classy but unusual and completely unique, and to us, it reflects elements of nature and the galaxy that we love and are continually inspired by.
DAVINA: 

Anything else you want to share?
GENEVIVE AND DAVID

: This ring was a long time in the making - we had looked around at different designs for a while but when we got to Black Finch and sat down with Raymond and Naasicaa, it just felt right! We were really grateful that they gave us plenty of time to explore all the possibilities, looking at different stones in different configurations, and they searched and found stones that beat our expectations. For anyone who wants to be involved in the design process, these are your people!
..........And thank you so, so very much again for all your patience, creative eye and talent to bring this piece into being. It is truly remarkable.'
See below the couple's images in different lights and locations bringing out the different hues in the ring!