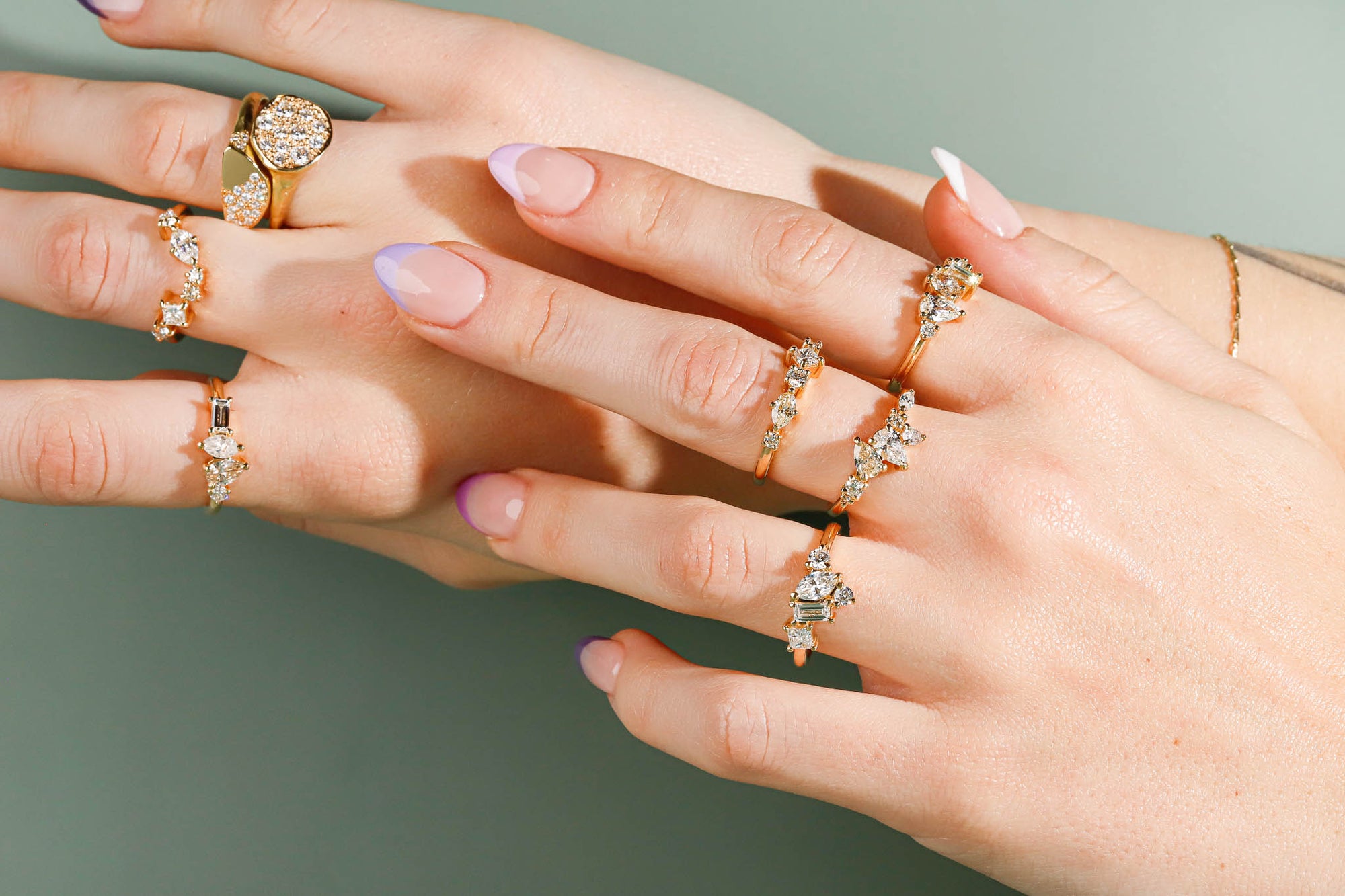 How to Clean Your Jewellery at Home
At Black Finch, we craft all our pieces with either 9ct and 18ct gold or platinum. While gold is one of the earth's most transmutable and resistant materials and is equipped for everyday wear, it's important to note that gold isn't indestructible, and, like us all, can benefit from some TLC now and then.
Here are our top tips and tricks to look after your precious jewels at home when you don't have an ultrasonic cleaner on standby... 
Looking after your gold
When you want to give your gold some love at home, you can clean your gold and platinum jewellery with warm water and use a polishing cloth or lint-free microfibre cloth to wipe off any residue. While you can add a couple of drops of mild detergent to help clean your jewellery, there are some household chemicals you would be wise to keep away from your gold, including: chlorine, bleach, solvents, and dissolvents. And remember, all Black Finch pieces come with a lifetime guarantee, which means you get a complimentary clean of any of your jewels when needed. 
Keeping those gems extra sparkly
In addition to your gold, sometimes our gems need some extra love as well. If you can't stop by a Black Finch store to get your jewels cleaned, here are some methods to take care of your sparkling treasures at home.
Gemstones like diamonds and sapphires benefit from a nice warm bath (just like us!). Particularly in an ultrasonic cleaner, which uses high-frequency sound waves to create bubbles in a cleaning liquid that can remove dirt and grease from jewellery. We do, however, understand that most people won't have an ultrasonic cleaner hiding in their cupboards. To wash your sapphires and diamond jewels at home, we recommend washing them in warm water with a little mild detergent and wiping them clean with a gem cleaning cloth or a lint-free microfibre cloth. You can also use a soft-bristled toothbrush to clean inside the setting.
Extra TLC for semi-precious stones
If your jewellery has semi-precious stones set in the design, it's important to note that caring for these gems is a little different from caring for sapphires and diamonds. Semi-precious stones are more delicate and prone to chipping and heat damage. These stones include, but are not limited to, emerald, garnet, topaz, tourmaline, moonstone, sunstone and onyx. These delicate stones should be cleaned with warm, soapy water and a soft cloth. You'll want to avoid vigorous scrubbing and ultrasonic cleaners with these jewels. The highest care must be taken when cleaning pearls and opals, as they're particularly vulnerable to acids, fragrances, and chemicals. They should be cleaned occasionally with warm, soapy water and a soft cloth, and extra caution should be taken with them when engaging in physical activity or handling any harsh chemicals.
And there you go, some tips and tricks on how to care for your precious jewellery at home so they can keep sparkling, as they should. 
Featured image credit: Samantha Schultz for Broadsheet