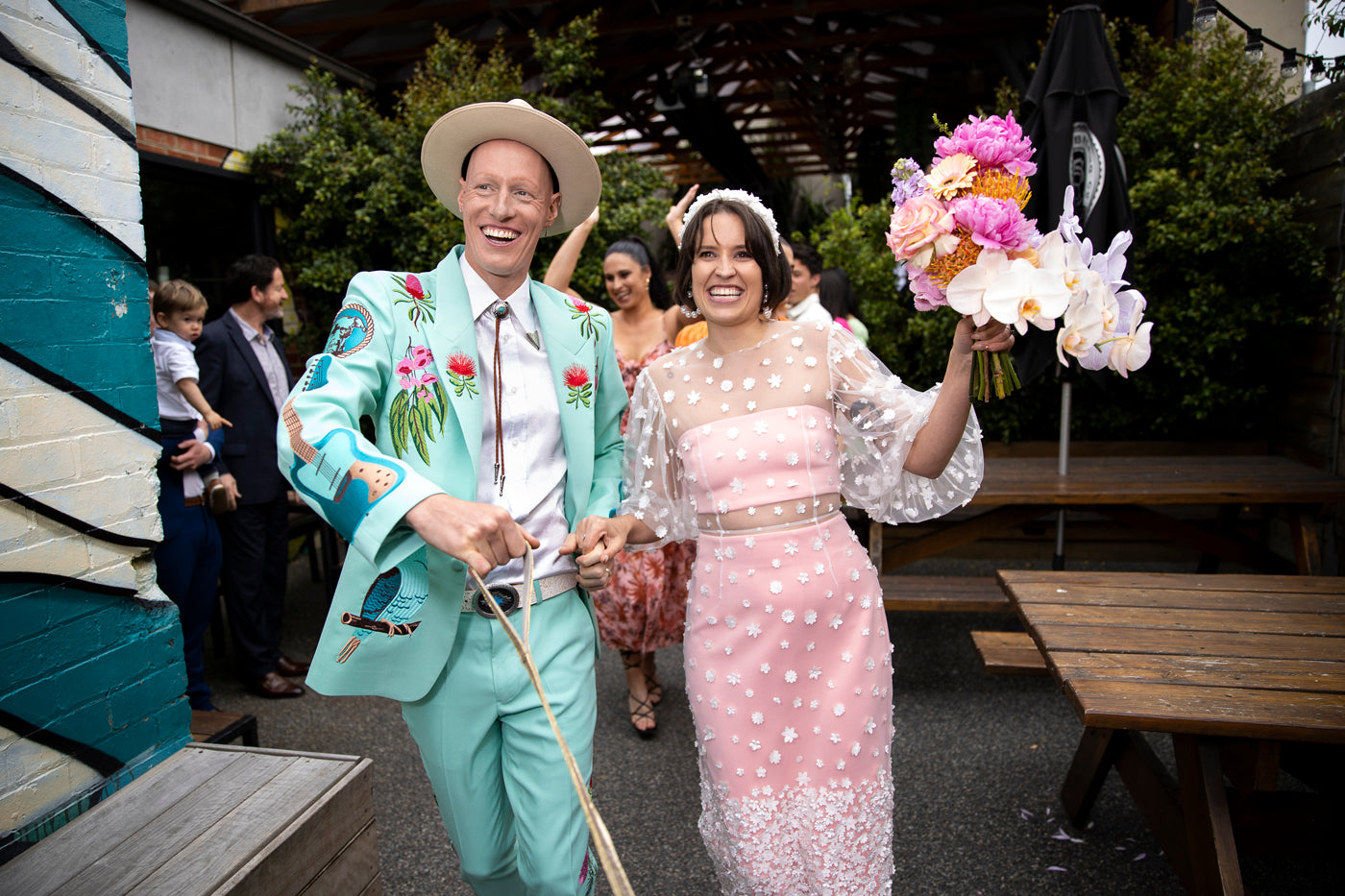 Black Finch Love Stories — Ed & Lexie
Ed & Lexie's Love Story ❤️ 
In this Black Finch Love Story, Ed and Lexie have kindly shared some amazing images from their vibrant wedding along with a peek inside their very special love story... 
When did you know you had found your special person?
Ed
"I knew I had found my special person after our whirlwind Melbourne Summer romance spiralled into two years living together in Montreal. We unexpectedly found ourselves shacked up on the other side of the world and despite having only known each other for a few months and it turned out we were a great match."
Lexie
"I felt pretty strongly after our first (12 hour) picnic date and when our friendship groups merged that we had created something pretty special together. The only thing standing in the way was only four months, we each had plans to live and travel overseas. We hoped we would make it work and I'm so glad we did seven years on."
How did the engagement go down?
"It was October 2020, in the thick of lockdown. After two unsuccessful attempts to watch movies we decided to do something different. Get dressed up, make cocktails and have a dance party for two. Little did I know that Ed had designed and bought a ring he has been hiding for over six months! After 20 mins of rummaging in our bedroom I was wondering where he's got to?! It took me by surprise when he finally emerged and asked me the question. Of course, I said yes. It was such a gorgeous moment and evening amongst the long dreary momentous days of lockdown and was perfectly right for us."
Most memorable moment from your wedding?
Ed
"Most memorable part of the wedding was when I performed the song I had written for Lexie. I was so nervous that I would ruin this nice moment for Lexie by making a mistake!"
Lexie
"I had been cheekily asking for ages to be the subject of a song for Ed so it was incredibly special to be centre stage for his performance. I may be biased, but it was his best song yet ;) A very close second was having a moment away just the two of us to have dinner together after we had missed out earlier. I had been told those moments are hard to come by so it felt amazing to be in the moment together and to pinch ourselves at how wonderful and surreal the evening had been."
Can you share some words on your Black Finch experience?
"When I was deciding on an engagement ring for Lexie I knew that a big gross blood diamond from a big box jewellery store was not her style, she is all about supporting local and independent. So as soon as I discovered Black Finch in our local neighbourhood and saw their beautiful and unique designs specialising in locally sourced materials I knew they would be perfect. The team was so great and were very accommodating with design and price helping us create the perfect piece."
The two rings above are Lexie and Ed's white gold hand carved rings made by Black Finch. 
Photos by: Harjono Djoyobisono 
Book a Custom Design Consultation at our Collingwood or Sorrento store