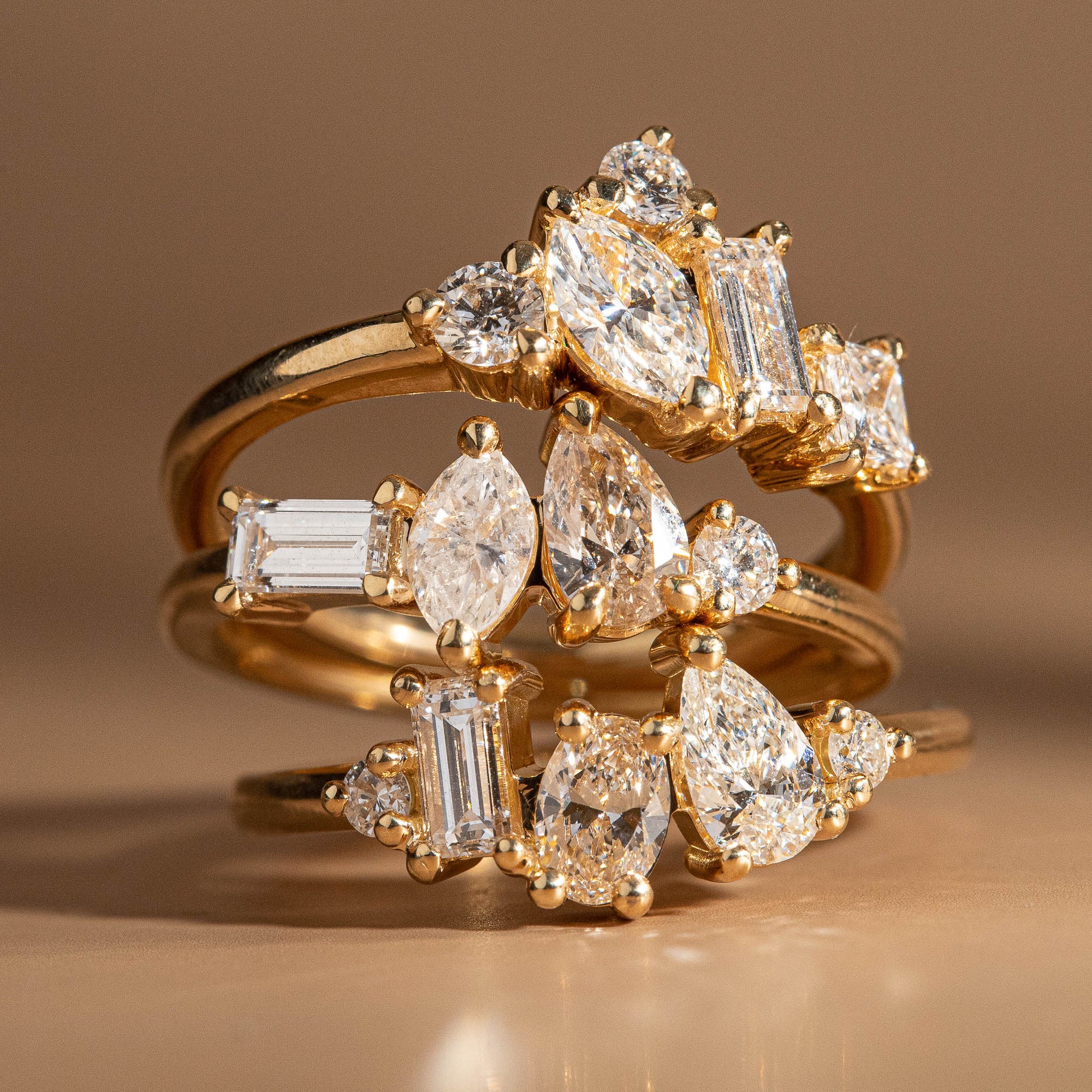 The History of the Cluster Ring
Uncover the Cluster Ring's fascinating past
Introducing the cluster; painted with a kaleidoscope of awe-inspiring sapphires or decorated with the refined grace of diamonds. A tribute to craftsmanship and joie de vivre, Black Finch cluster rings are more than just a piece of bling. But where did they come from, this jewellery delight? Let's delve into history, to stories untold.
The design legacy, a testament to the beauty of human creations, can be traced all the way back to Georgian fashion. Skilled artisans crafted precious bands adorned with jewels for the fortunate to express their superior grace. Initially cluster rings were heavier in design, featuring a round or oval central stone surrounded by a halo of gemstones. 
Fast forward to the 20th century, cluster rings gained popularity. With the unique and artful use of metals, setting techniques and groupings of gemstones, designs became more sophisticated, imaginative and whimsical. Jewellers began experimenting with geometric cuts of gemstones in abstract ways that incorporated diamonds and coloured stones in contrasting fashion. From Hollywood stars to everyday wear, the 20th century marked a time where cluster rings became a staple, timeless and chic. 
Here at Black Finch we play with colour and form to create unexpected, personalised outcomes. Our Nightfall Cluster ring has become one of our most requested designs. Favouring graceful curves and harmonious colour palettes, the Nightfall is distinctly modern yet simultaneously timeless. Continually evolving our cluster designs, our latest Cloudbusting collection encompasses multiple diamond cluster rings. Showcasing an assortment of asymmetric, sleek, contemporary cluster ring designs, the collection of visionary jewellery supports one's truest expression of love; whilst challenging notions of traditional bridal style. 
Whether worn as a symbol of romance, or a talisman of self love, the cluster ring continues to evolve and inspire new generations of jewellery lovers.
Discover the Cloudbusting Diamond Collection's range of stunning cluster rings
Book a Black Finch Design Consultation to craft your dream cluster ring design