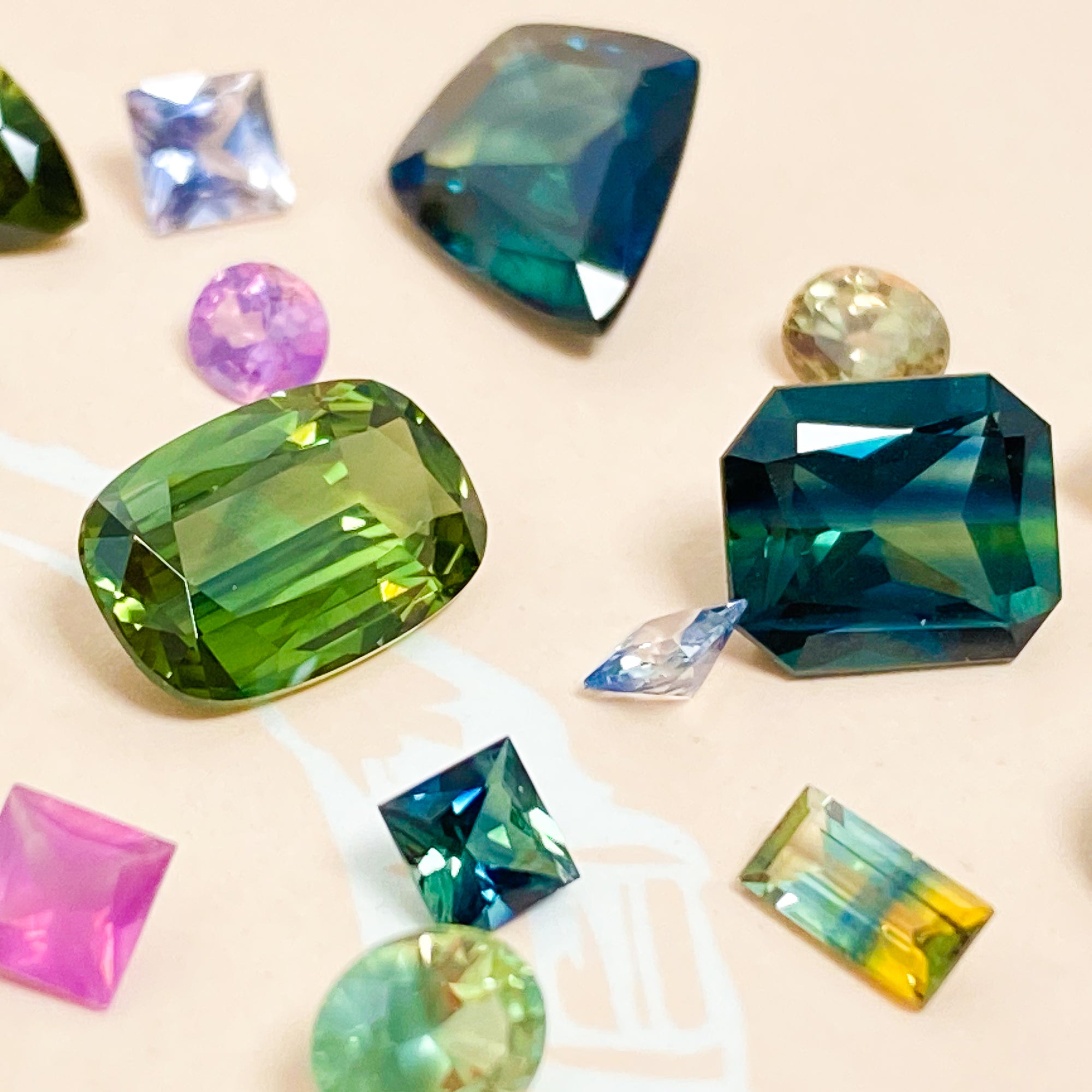 The stone that speaks to you...
The stones we use to reflect our eternal love are truly eternal, and the palette is getting wilder.
We have been working with Australian sapphires with their dazzling colour range and exceptional hardness for 14 years and they still take our breath away. 
From the classic Australian rich blue, forest green, teal green and mixed colour yellow/blue parti sapphire there is a bottomless ocean to dive into. The rare sunset colours that occasionally make their way to the light are studio favourites. Blush, plum and sometimes candy pink these are the true rarities of the deep.
With a Mohs hardness of 9/10, it is second only to the diamond. This makes Australian sapphires the Black Finch engagement ring coloured stone of choice. We source our sapphires from various regions; central QLD gemfields, The Lava Plains, and Inverell and Swan Brooke in NSW.
The really exciting part is we have direct relationships with the people who mine our stones. We can guarantee their provenance. Our sapphires are sourced from small, shallow mines with chemical free processing methods and the added peace of mind of Australian labour standards. Their footprint is light.
We love to play cupid in finding the sapphire that is meant for you or your love. With the intricacies of colour and shape, the way the light falls, and the design of the setting no two sapphires are the same.
Crystalize your story with the perfect sapphire.
ALL the glittery bits about sapphires you need to know!
September babies are blessed with the birthstone sapphire. Any colour will do :)
It is the stone for the 5th and 45th anniversaries of love
Sapphires are heavier than diamonds! If you compare a 1 carat diamond and a 1 carat sapphire the sapphire will appear visually larger
Australian colour change sapphires have the magical ability to change colour under different light sources shifting in colour under natural daylight to incandescent light     
It is the trace element in the mineral corrundum that creates the wild palette of colours available
Book a Black Finch Custom consultation here to create your very own ethically sourced Australian Sapphire ring!
Discover the Black Finch Collection Australian sapphire engagement rings here