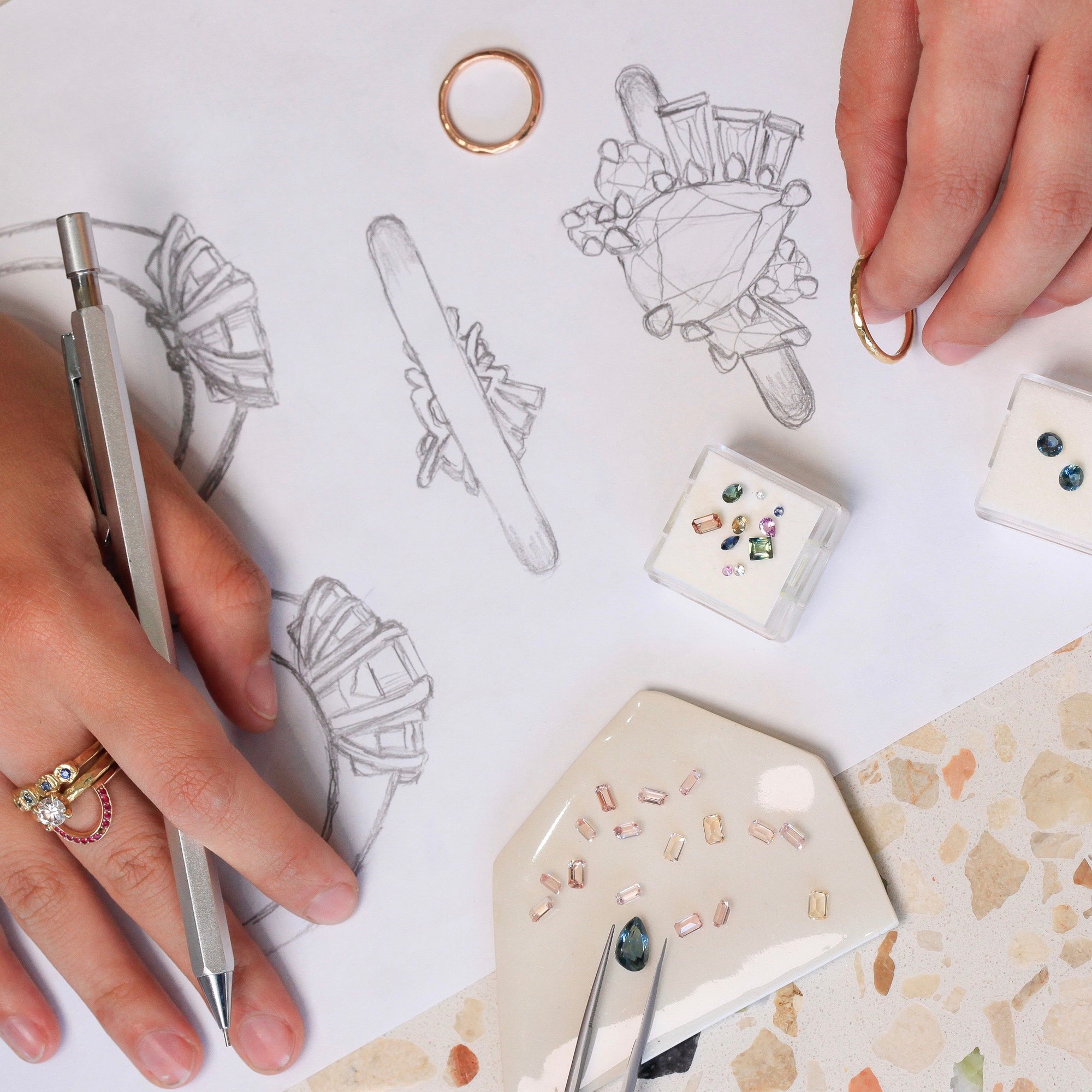 What does it take to make your forever ring? 
Light, craft and a million years… 
Our passion is transmuting the power of your story into a custom designed treasure, 
crafted for a lifetime.  
You are the dreamer, we the dream-weavers
At your personalised consultation we will guide you through the process of selecting from our collections of responsibly sourced gems, choosing your metal and harnessing these raw materials, shaping them with our design expertise to create your forever ring. 
We are excited to be going on this voyage of the heart with you...  
Share Your Ideas
Time to reflect. The initial design inspiration is about capturing the essence of the lover, self or other who will be the lifelong wearer of the piece. Who are they/you? Is there a resonation with colour? Does an organic feel or cleaner lines suit their personal style? What metal colour are they naturally drawn to? Or even simply, what pastBlack Finch designs align with who they are? 
Once you have considered these elements, book a Studio or Virtual consultation and share your inspiration, gem and metals preferences, budget and timeline.  The more detail the better.  If you are unsure of these details or need to be guided, rest assured we are experts at working through these details with you.
From this foundation we prepare for your personalised consultation, ready to start realising your  jewellery vision.   
Consultation
Pure magic. This is the exciting and fun experience of working with one of our knowledgeable designers either in person at the Black Finch Studio, on the phone or online and starting to realise the vision.
We will play with stones, look at colour and form and find the stones that are winking at you. We will transform your story and ideas into a custom designed treasure, a power object that will endure for a lifetime.  With your gems and metals selected and your design sketched out we will crystallise all the details and work with our skilled production team to define each detail, from claw placement, profile, setting height and metal finish.
Design and Craft
After your consultation we will prepare a quote and execute a design sketch where needed. We will share images of your selected stones for your reference.  Once the design is  approved and the deposit is paid, we start to craft your forever ring. From this point the design production process typically takes 6-8 weeks.
This is where the magic exceeds the sum of its parts. The elements combine, the piece becomes more than precious stones and gold but a tangible symbol of your story. When complete, it is stamped, valuation obtained, balance paid and your custom designed beauty passes from our hands to yours, ready to accompany you on your  journey...
Some thoughts from one of our treasured clients on their custom design experience..
"Choosing to go with Black Finch was the most wonderful experience to design our engagement ring. The consultation and design process was fun and the atmosphere in store was so warm, friendly and inviting. 
 If you are looking to design an engagement ring together or just wanting to visit somewhere with beautiful pieces that are made with genuine love and care, Blackfinch is the place. The final product is exquisite and I am absolutely obsessed with it. Elegant, unique and meaningful. We love you Blackfinch!" 
Alicia, April 2020